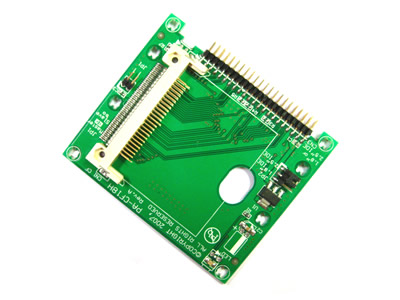 Model :

SLCI6001

Name:

CF To IDE 2.5 Inch/Hitachi 1.8 Inch Multifunctional Adapter

Description :

The CF To IDE 2.5 Inch/Hitachi 1.8 Inch Multifunctional Adapter is transparent to the operating system and does not require any drivers. With this adapter, the host PC will identify the inserted CF card as a standard IDE hard disk.As such, you can install any operating systems and the CF card will be bootable , CF card offer the benefit of low power consumption, no acoustic noise, cost efficient and fast read access time , avoid damaging mechanical HDD cause of by turnning on/off power freqently.It enable cf storage card to use true IDE mode , replace HITACHI 1.8 inch or 2.5 inch ide IDE hard disk driver .The board size is the same as Hitachi 1.8 inch hard disk , perfect for mounting and mounting .The board, 1.8 HDD holes for the screws and a regular 2.5 inch HDD for the mounting hole, so as, 2.5 inch HDD mounting space can also be mounted.
Specification & Features:
44-Pin standard male IDE connector.
50-Pin standard compact flash socket.
Power supply from IDE.
Jumper for Hitachi 1.8 inch/IDE 2.5 inch .
Master or slave mode selection,each jumper has a cap , cap on is master , cap off is slave.
Plugs directly into IDE port for HITACHI 1.8 inch HDD.
Also compatible with IDE port for 2.5" harddisk drive.
Activity indicator LED.
Compatible with Compact Flash Type I, Type II, and support IBM Micro-drive with CF-II interface.
Supports DMA and Ultra DMA modes. A compatible flash media card will be required to use these modes.
Compatible* with DOS, Windows 3.1, NT4, 98SE, Me, 2000 and XP, Vista, Unix, Linux .
Size: 70.8mm x 60.5mm x 6.5mm.
Weight: 17g.